Time to for the band to finally hit the heartland again for a couple of nights. Can't wait to hear what they're going to bring us!
Showtime is 7 pm CENTRAL, so that's 8 pm in the East
(thank you Sugaree!!)., and it's going to be another hot evening. I'm hoping for a stream, but haven't heard of one for sure, so please holler if you hear anything. I know we have some FFF in attendance, so I think chances are pretty good we'll find a kind stream somewhere.
Stream update: rudeadhead has kindly offered to give us a phone stream, yippee!!!!
www.ustream.tv/channel/rudeadhead
Set 1:
Here Comes Sunshine
Mississippi Half Step Toodleloo
Cumberland Blues
Cassidy
Doin' That Rag
Lost Sailor>
Saint of Circumstance

Set 2:
Feel Like a Stranger
Passenger
Truckin
Viola Lee Blues>
Mountains of the Moon>
All Along the Watchtower>
Morning Dew

Throwing Stones

E: Attics of My Life

.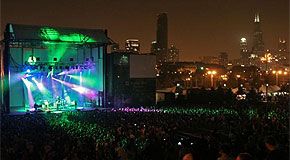 Last Edit: 2 years, 3 months ago by SunshineSue.